TRANSACTIONS | Elks sign Marshall and Powell
Edmonton preparing to host Ottawa on Aug. 27

EDMONTON - The Edmonton Elks announced Tuesday that the club has signed Americans Jalin Marshall (WR) to the active roster and Drew Powell (QB) to the practice roster.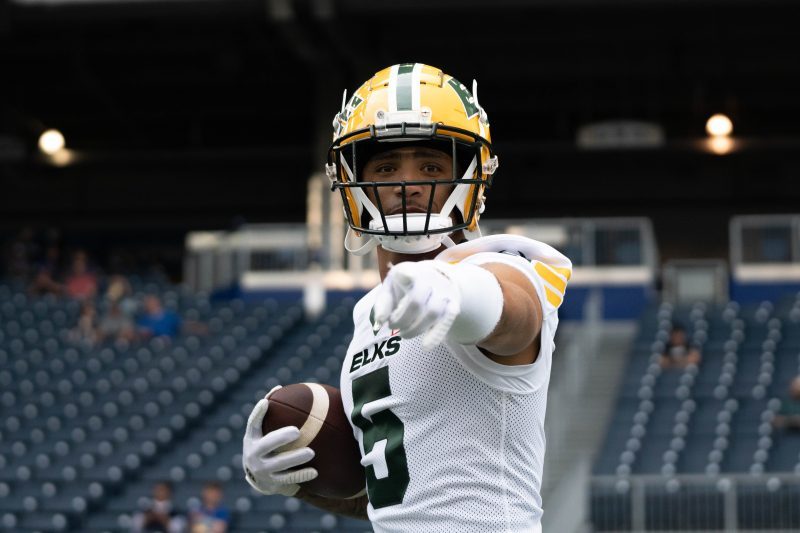 Marshall returns to Edmonton after being released by the Elks on June 27. The veteran of three CFL seasons appeared in Edmonton's Week 1 loss to the B.C. Lions, racking up 165 total yards (16 receiving, 37 punt returns, 112 kick returns). The Ohio State product spent ​ 2019 and 2021 with the Hamilton Tiger-Cats, helping the Ti-Cats make back-to-back Grey Cup appearances.
Powell is fresh off being named Most Valuable Player of the Indoor Football League for a second consecutive season and third time overall. As a member of the Arizona Rattlers in 2022, the 27-year-old pivot led the league in passing yards (2,630), passing touchdowns (63) and QB efficiency rating (182.5). He also ranked fourth in the IFL with 27 rushing touchdowns and fifth with 734 rushing yards.
The Elks also announced that American Justin Renfrow (OL) has been released. Renfrow, who has played 26 games in his CFL career including eight with the Elks last season, has not dressed for any games in 2022.
Additionally, Jacob Plamondon (DL) was moved from the active roster to practice roster, and Jeremie Dominique (DB) moves from the practice roster to the active roster.
Veteran Manny Arceneaux (WR) has been placed on the six-game injured list, while James Wilder Jr. (RB) has been extended on the six-game injured list.
The Elks return to practice at The Brick Field at Commonwealth Stadium today in preparation for Saturday's home game against the Ottawa RedBlacks.
---
TRANSACTIONS
SIGNED
Jalin Marshall | AMER | WR | 5'10 | 200 LBS | 1995-07-21 | Middletown, OH | Ohio State
Drew Powell | AMER | QB | 6'2 | 220 LBS | 1994-12-08 | Upper Marlboro, MD | Livingstone
RELEASED
Justin Renfrow | AMER | OL | 6'3 | 315 LBS | 1989-12-23 | Philadelphia, PA | Miami
ADDED TO 6-GAME INJURED LIST
Manny Arceneaux | AMER | WR | 6'2 | 210 LBS | Alexandria, LA | Alcorn State