TRANSACTIONS | Elks sign Jake Julien (P)
Edmonton releases Guthrie (OL) and Rector (DL)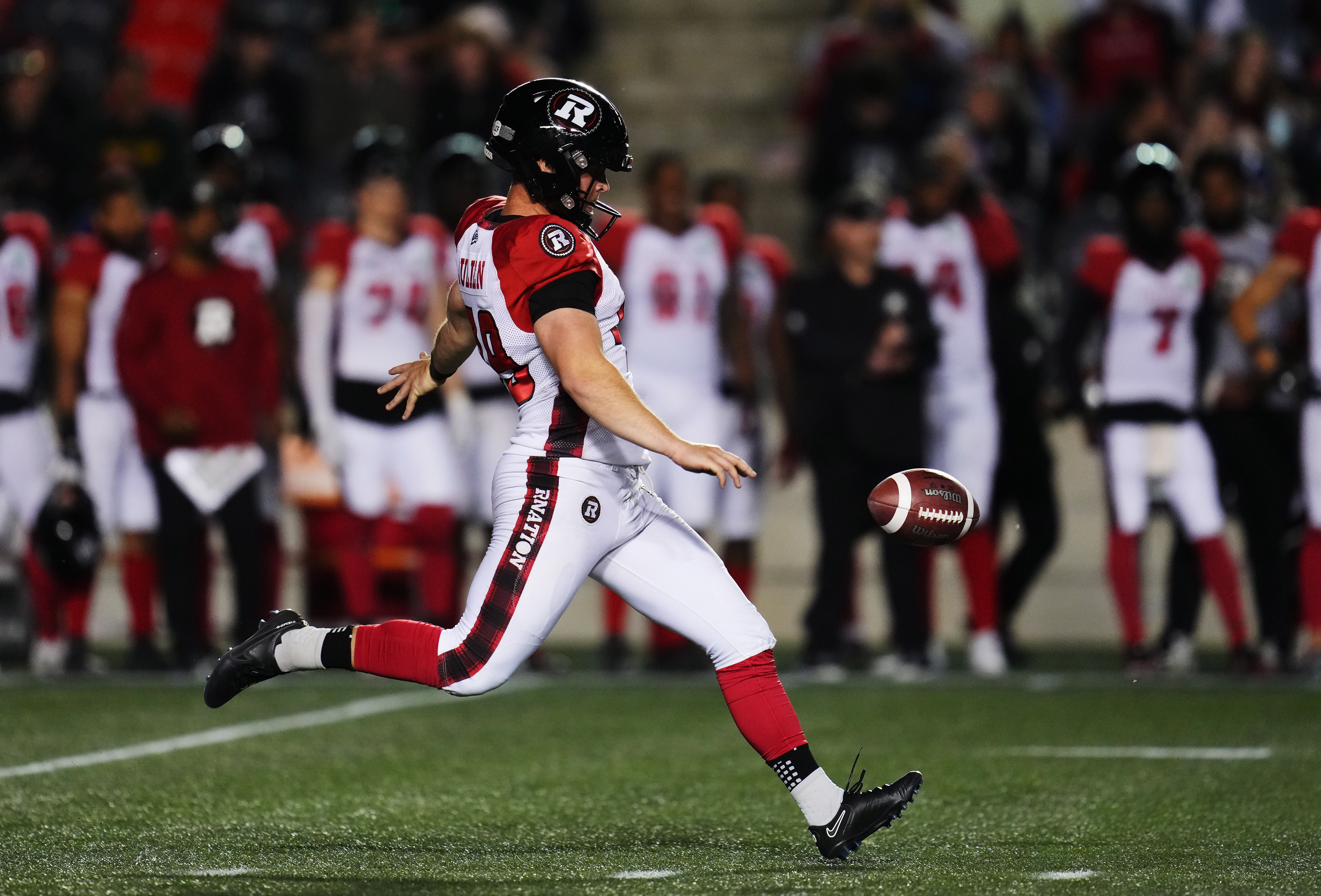 EDMONTON – The Edmonton Elks announced Saturday that the club has signed National Jake Julien (P) and released National Jaylan Guthrie (OL) and American Christian Rector (DL).
The Eastern Michigan University product was selected 31st overall by the Ottawa Redblacks in 2021. Julien most recently attended Ottawa's training camp before being released on June 3. The Ontario native signed as an undrafted free agent with the New England Patriots in 2022, suiting up for one preseason game.
Collegiately, Julien played five seasons (2017-2021) at Eastern Michigan, where he punted 221 times for 9,726 yards (44.0 per punt) in 54 games for the Eagles.
In two seasons with the Double E, Rector recorded 25 total tackles, seven sacks, and two forced fumbles in 19 career games. Guthrie signed with the Elks last July and appeared in one game during the 2022 season.
Additionally, a total of 11 players were added to the practice roster. Please see below for the full list.
The Elks return to practice this week, as they prepare for their season-opening game on June 11 against the Saskatchewan Rough Riders at Commonwealth Stadium.
---
TRANSACTIONS
SIGNED:
RELEASED:
Jaylan Guthrie | NAT | OL | 6'5 | 315 LBS | 1994-08-17 | Scarborough, ON | Guelph ​
Christian Rector | AMER | DL | 6'4 | 270 LBS | 1997-04-22 | South Pasadena, CA | USC
ADDED TO PRACTICE ROSTER:
Tobi Antigha | AMER | LB | 6'2 | 240 LBS | 1993-03-16 | Tampa, FL | Presbyterian
Elliott Brown | AMER | DL | 6'5 | 225 LBS | 1998-02-02 | Odenton, MD | Virginia
Olivier Charles-Pierre | NAT | DL | 6'1 | 375 LBS | 1994-04-22 | Laval, QC | Incarnate Word/Houston
Michael Domagala | NAT | K | 5'9 | 202 LBS | 1995-09-28 | St. Catharines, ON | Carleton
Maurice Ffrench | AMER | WR | 5'11 | 200 LBS | 1998-01-01 | New Brunswick, NJ | Pittsburgh
Darel Middleton | AMER | DL | 6'7 | 305 LBS | 1996-12-11 | Knoxville, TN | Tennessee
Antonio Mitchell | AMER | 5'11 | 190 LBS | 1998-08-13 | Moreno Valley, CA | Purdue
Adam Raine | GLB | DL | 6'4 | 306 LBS | 1999-02-26 | Basingstoke, England | Yale
CJ Sims | AMER | WR | 5'8 | 160 LBS | 1994-12-19 | Covington, LA | New Mexico Highlands
Danny Vandervoort | NAT | WR | 6'2 | 204 LBS | 1994-03-13 | Barrie, ON | McMaster
Marcus Willoughby | AMER | DE | 6'3 | 253 LBS | 1998-07-26 | Durham, NC | Elon University