TRANSACTIONS | Elks release five players
Edmonton adds Makonzo and Leonard to active roster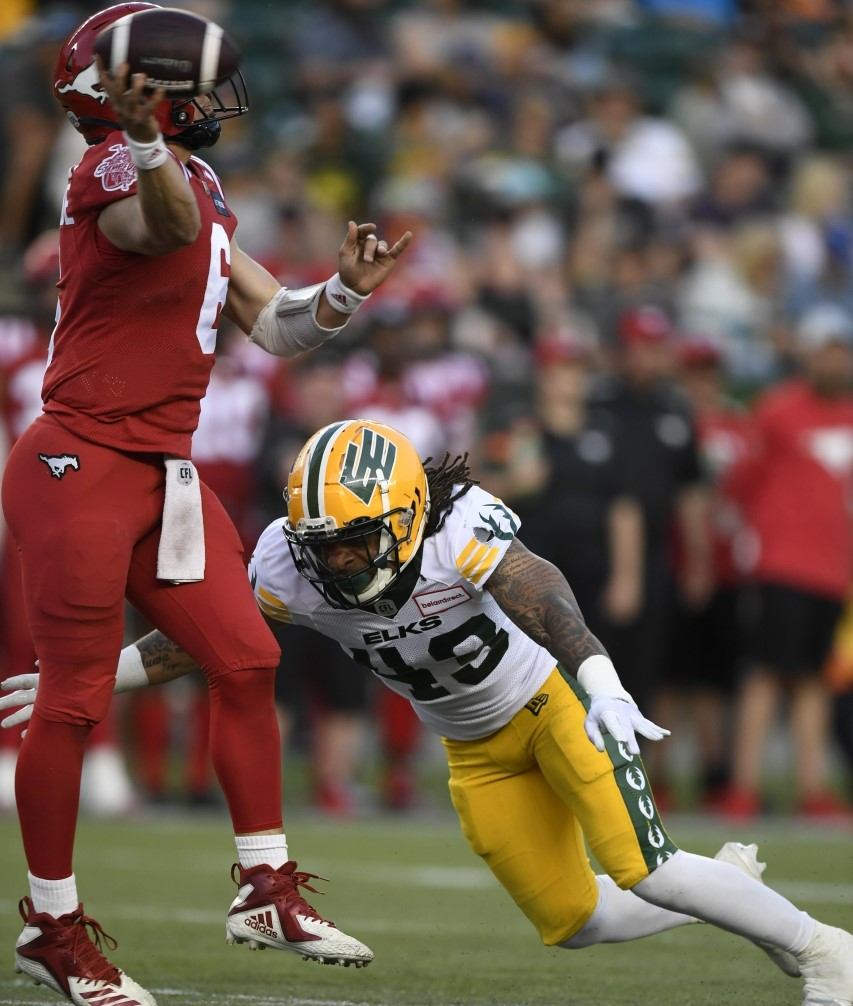 EDMONTON - The Edmonton Elks announced Monday, that the club has added Enock Makonzo (LB) and Raphael Leonard (WR) to the active roster.
In addition the Elks have released Matt Elam (DB) and Ethan Makonzo (DB) from the active roster and Michael Beaudry (QB), Jalin Marshall (WR) and Malik Sonnier (DB) from the practice roster.
Enock Makonzo, Edmonton's 4th overall pick in 2022, spent the last two games on the 1-game injured list with a knee injury and made his debut in Week 1 against the B.C. Lions, recording four tackles.
The Southern Illinois product Leonard, appeared in the Elks two preseason games, registering three catches for 48 yards
Marshall and Sonnier had not dressed since appearing in Edmonton's season-opening loss to the B.C. Lions. Beaudry, a rookie who played college at Idaho, has spent parts of the season on the Elks practice roster.
Elam started all three games for the Elks this season, making 10 tackles. Ethan Makonzo was signed by Edmonton on June 14, and appeared in two games with the Elks.
Day 1 of practice (Week 4) starts on Tuesday at the Brick Field at Commonwealth Stadium as the the Elks prepare for their game on Friday July 1, when they take on the Hamilton Tiger-Cats at Tim Hortons Field.
---
TRANSACTIONS
ADDED TO ACTIVE ROSTER
Raphael Leonard | AMER | WR | 6'2 | 190 LBS | 1997-05-26 ​ | Starkville, MS | Southern Illinois ​
Enock Makonzo | NAT | DB | 5'11 | 195 LBS | 1997-05-01 | Lachine. QC | Coastal Carolina ​
RELEASED FROM ACTIVE ROSTER
Matthew Elam | AMER | DB | 5'10 | 208 LBS | 1991-09-02 | Palm Beach Gardens, FL | Florida
Ethan Makonzo | NAT | DB | 6'1 | 220 LBS | 1995-12-19 | Montreal, QC | Montreal
RELEASED FROM PRACTICE ROSTER
Michael Beaudry | NAT | QB | 6'5 | 248 LBS | 1997-07-13 | Regina, SK | Idaho
Jalin Marshall | AMER | WR | 5'10 | 200 LBS | 1995-07-21 | Middletown, OH | Ohio State
Malik Sonnier | AMER | DB | 6'2 | 225 LBS | 1997-12-26 | Houston, TX | Midwestern State