TRANSACTION | Elks re-sign veteran receiver Arceneaux
Wide Receiver returns for 11th CFL season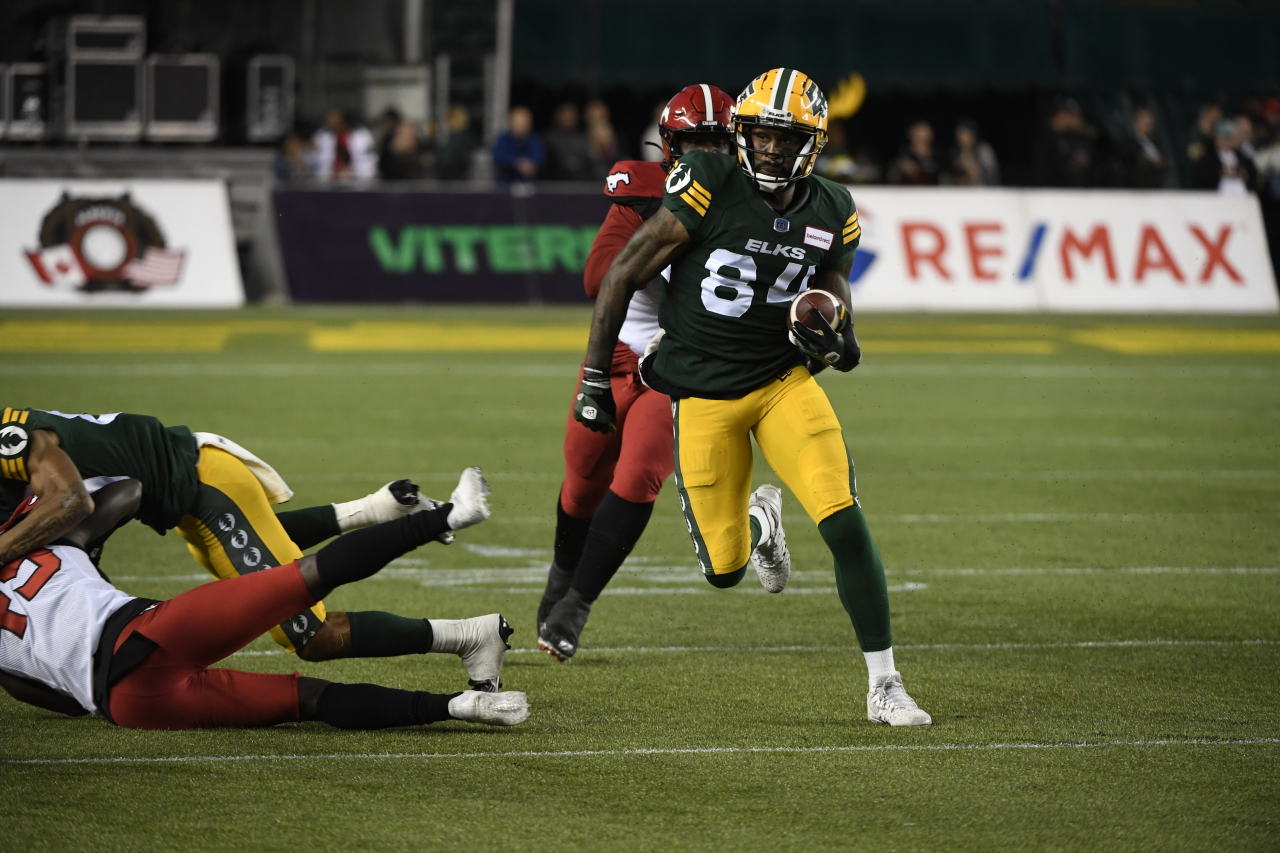 EDMONTON - There will be another season of the Manny Show in Edmonton. 
Veteran wide receiver Emmanuel Arceneaux has re-signed with the Edmonton Elks on a one-year contract, the CFL club announced Friday. One of the great pass-catchers of his generation, Arceneaux returns for his second campaign in Edmonton and eleventh season in the CFL. ​ 
The 35-year-old suited up for 12 games with the Green and Gold in 2022, recording 39 receptions for 513 yards and one touchdown. Arceneaux ranked second on the team with 228 YAC (Yards After Catch) and had a season-long reception of 66 yards. 
"There was unfinished business with how the 2022 season went," Arceneaux said. "I just felt there was so much more I had to give on and off the field. If God was going to give me an opportunity to come back and play the game that I love and take so much pride in, it's one of those opportunities that I couldn't just leave on the table." 
A two-time CFL All-Star and three-time West All-Star with four seasons of 1,000-plus receiving yards, Arceneaux has played 152 regular season games with the B.C. Lions (2009-10, 2013-18), Saskatchewan Roughriders (2019) and the Elks (2022). The Louisiana native is rapidly ascending the CFL all-time leaderboards and is the career leader among active players for receptions (617), receiving yards (8,931), and touchdown catches (59). 
In 2022, Arceneaux received the Tom Pate Memorial Award from the CFL Players' Association, recognizing outstanding sportsmanship and significant contribution to team and community. He also was recipient of the David Boone Award, presented annually to the Green and Gold player for characteristics displayed on the field and in the community. 
A graduate of Alcorn State University, Arceneaux has spent 14 years in professional football, including stints playing in the NFL with the Minnesota Vikings (2011) and the Indoor Football League with the Frisco Fighters (2021). ​ 
"I want to help shift the culture in the locker room, and do everything I can to help the coaches, help those young players, bring them along, teach them what it is to be a pro." 
Edmonton opens its 2023 regular season hosting the Roughriders at Commonwealth Stadium on June 11. The Green and Gold play their first pre-season game on the road against the Calgary Stampeders on May 22. 
---
TRANSACTION
SIGNED