TRADE | Elks, Tiger-Cats make deal on eve of CFL Draft
Edmonton adds two picks in Tuesday's CFL Draft, swap first round Global picks with Hamilton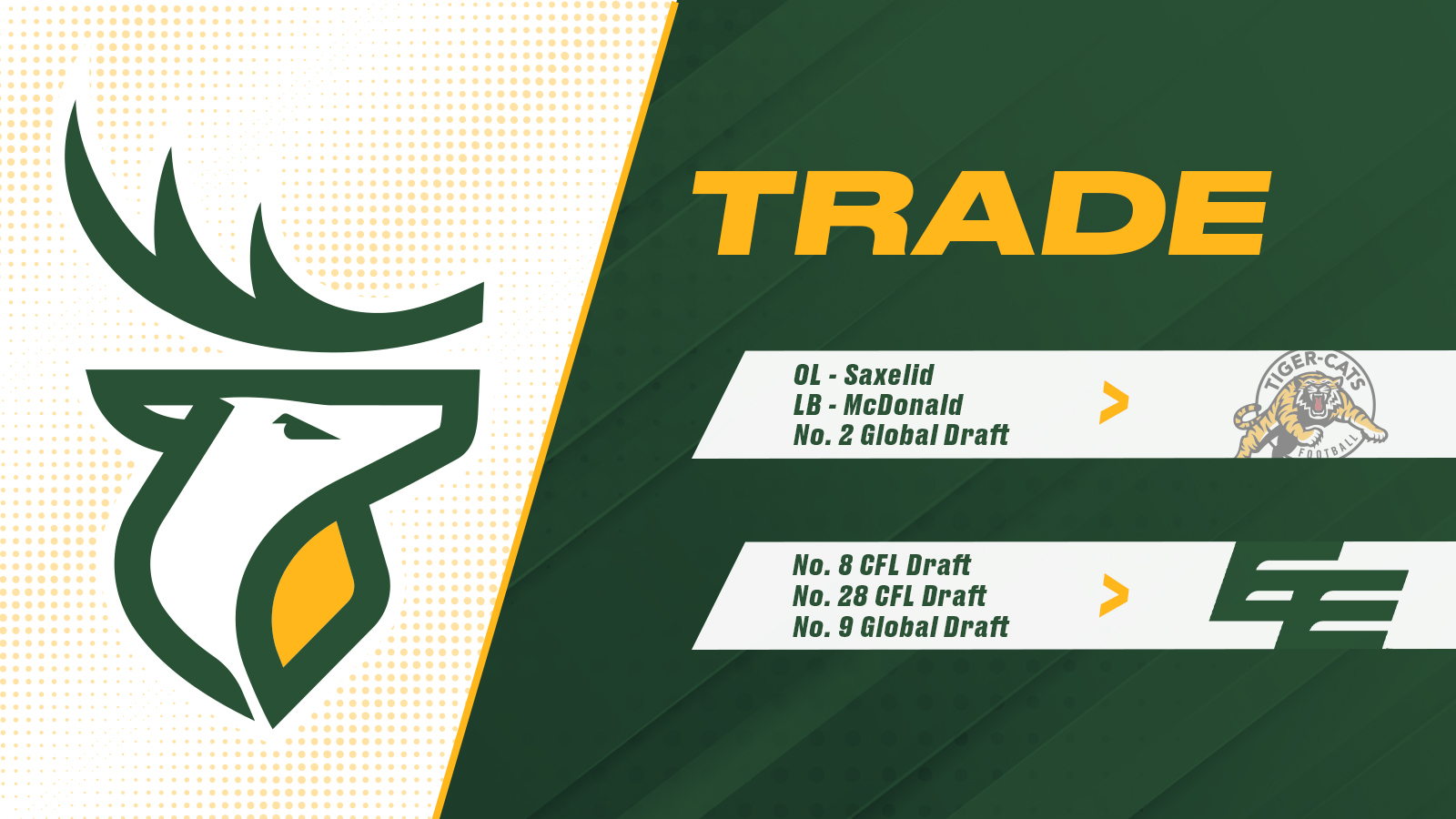 EDMONTON — ​ The Edmonton Elks made a deal Monday night with the Hamilton Tiger-Cats, adding to the Green and Gold's stockpile of 2022 CFL Draft picks.
Edmonton received the 8th and 28th overall picks in the 2022 CFL Draft and the 9th overall pick in the 2022 CFL Global Draft, while Kyle Saxelid (OL), Grant McDonald (LB) and the second overall pick in the 2022 CFL Global Draft are headed to Hamilton.
The trade adds to Edmonton's list of picks in Tuesday's CFL Draft (6 p.m. MDT), as the Elks will now have two picks inside the top eight (No. 1 and 8). Also slated for Tuesday is the CFL Global Draft, which begins at 10 a.m. MDT.
In terms of assets headed to Hamilton, Saxelid heads to the Hammer after suiting up in 29 games over two seasons in Edmonton, where the UNLV product played multiple positions along the O-line for the Green and Gold.
McDonald, a University of Calgary product, played mostly special teams in his rookie season (2021), recording 16 tackles in 14 regular season games. Both players were originally drafted by Edmonton, with Saxelid being selected in 2019 and McDonald in 2021.
---
TRADE DETAILS
EDMONTON RECEIVES (from Hamilton):
8th overall pick in the 2022 CFL Draft
28th overall pick in the 2022 CFL Draft
9th overall pick in the 2022 CFL Global Draft
HAMILTON RECEIVES (from Edmonton):
Grant McDonald | NAT | LB | 6'3 | 235 LBS | 1999-07-14 | Tsawwassen, BC | Calgary
Kyle Saxelid | NAT | OL | 6'8 | 301 LBS | 1995-04-13 | Elk Grove, CA | UNLV
2nd overall pick in the 2022 CFL Global Draft