TRADE | Elks, Alouettes make blockbuster draft day deal
Edmonton moves first overall pick for No. 4 selection and rights to Alberta product Carter O'Donnell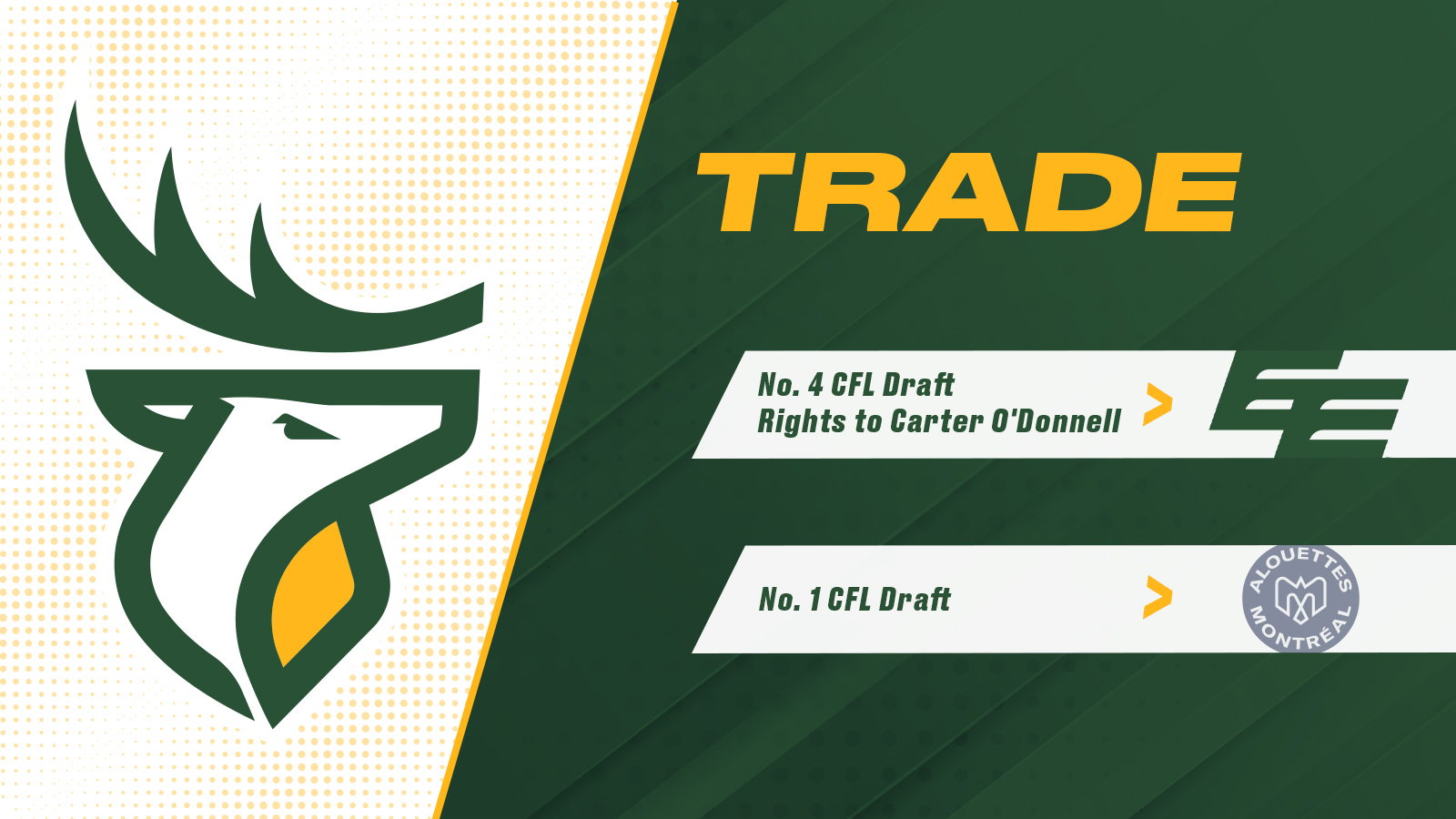 EDMONTON — The Edmonton Elks continued to make noise ahead of the 2022 CFL Draft, as Elks Head Coach and General Manager Chris Jones dealt the first overall pick in the 2022 CFL Draft to the Montreal Alouettes Tuesday morning.
In exchange, Edmonton received the 4th overall pick in the 2022 CFL Draft and the rights to offensive lineman Carter O'Donnell.
O'Donnell has strong Edmonton ties after playing for the University of Alberta Golden Bears from 2016-2019. The Red Deer, Alta. native and 2019 U Sports All-Canadian was drafted 22nd overall by the Alouettes in the 2020 CFL Draft. Prior to being selected by the Als, O'Donnell had signed as an undrafted free agent with the NFL's Indianapolis Colts.
The six-foot-five lineman has spent the majority of his time on the Colts' practice roster the last two seasons, but did suit up for Indianapolis in their Week 16 matchup against Arizona in 2021.
With the trade, the Elks now hold five picks in the first three rounds of the 2022 CFL Draft, including two in the first round (No. 4 and No. 8).
Tuesday's CFL Draft is scheduled for 6 p.m. MDT.
---
TRADE DETAILS
EDMONTON RECEIVES (from Montreal):
4th overall pick in the 2022 CFL Draft
Rights to:

Carter O'Donnell | NAT | OL | 6'5 | 313 LBS | 1998-12-23 | Red Deer, AB | Alberta
Montreal RECEIVES (from Edmonton):
1st overall pick in the 2022 CFL Draft
---
ELKS 2022 CFL DRAFT PICKS BY ROUND
1st round | No. 4 and 8
2nd round | No. 19
3rd round | No. 21 and 28
4th round | No. 30
5th round | No. 39
6th round | No. 48
7th round | No. 57
8th round | No. 66