Terry Vaughn joining Edmonton football greats on Wall of Honour
Canadian Football Hall of Famer to be inducted during Elks vs. Redblacks game on August 27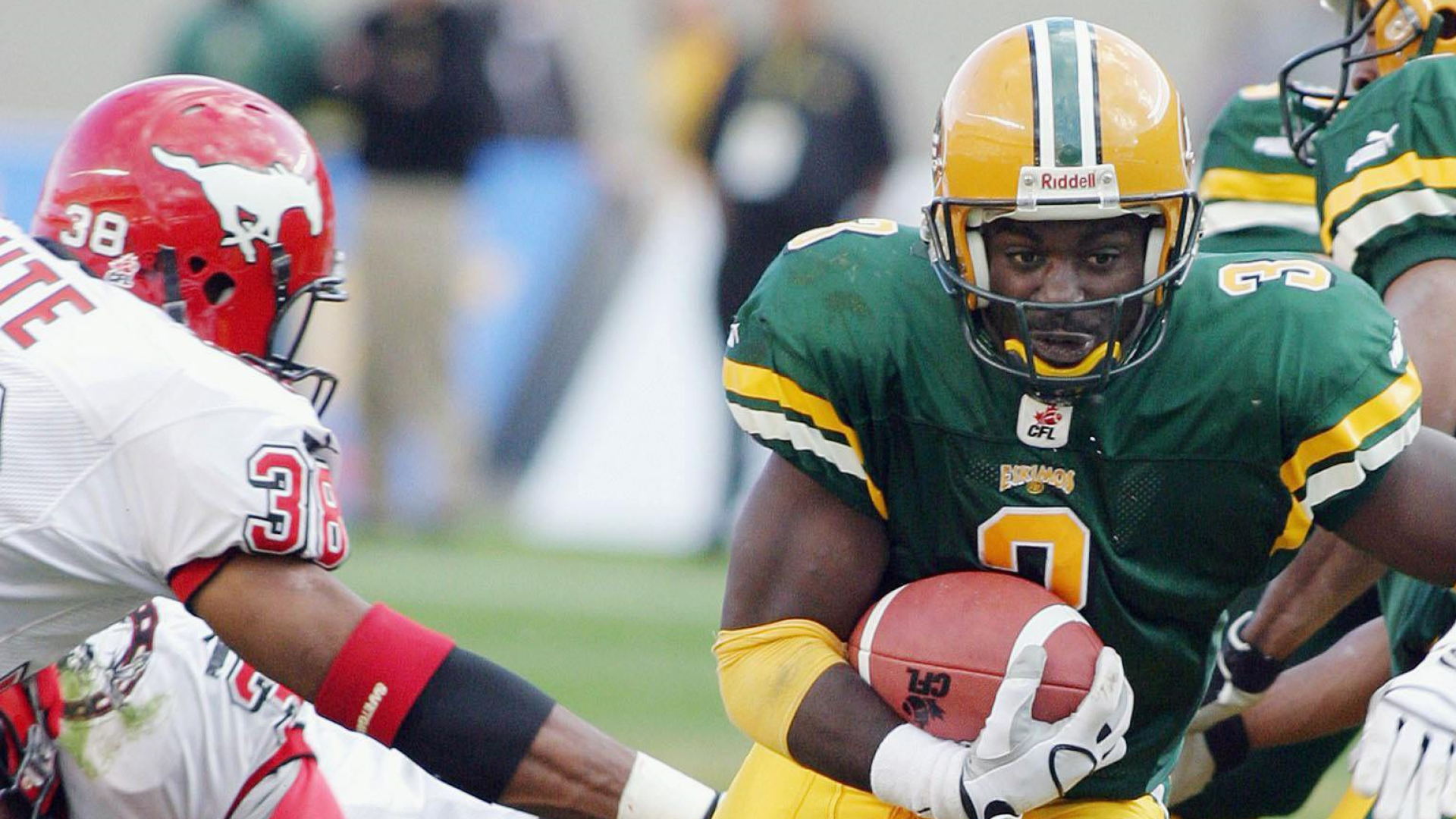 EDMONTON — One of the best receivers in Edmonton football history is getting his place on the EE Wall of Honour.
Terry Vaughn, who spent six seasons in Green and Gold between 1999 and 2004, was announced Thursday as the 2023 Wall of Honour inductee, becoming the 42nd player to earn the Club's highest honour.
Vaughn's name will take its rightful place at Commonwealth Stadium on Sunday, August 27 when the Edmonton Elks take on the Ottawa Redblacks. His induction coincides with the 20th anniversary of Edmonton's 2003 Grey Cup victory over the Montreal Alouettes in Regina.
"I love the Green and Gold. I enjoyed my time there, enjoyed my teammates, the fans and the people that I got a chance to work with as well. A great organization and a great community," said Vaughn, whose No. 3 will take its place alongside fellow Green and Gold standouts.
Among the greatest receivers in CFL history, Vaughn was a 1,000-yard receiver in all six of his seasons with the Double E. He holds or shares four franchise receiving records: most 1,000-yard receiving seasons (6), most consecutive 1,000-yard seasons (6), most receptions in a season (106), and most receiving yards in a game (275).
The Arizona product was a five-time CFL West All-Star during his stay in Edmonton, including during Edmonton's run to the 2003 Grey Cup. Five years after completing his CFL career in 2006, Vaughn was inducted into the Canadian Football Hall of Fame.
---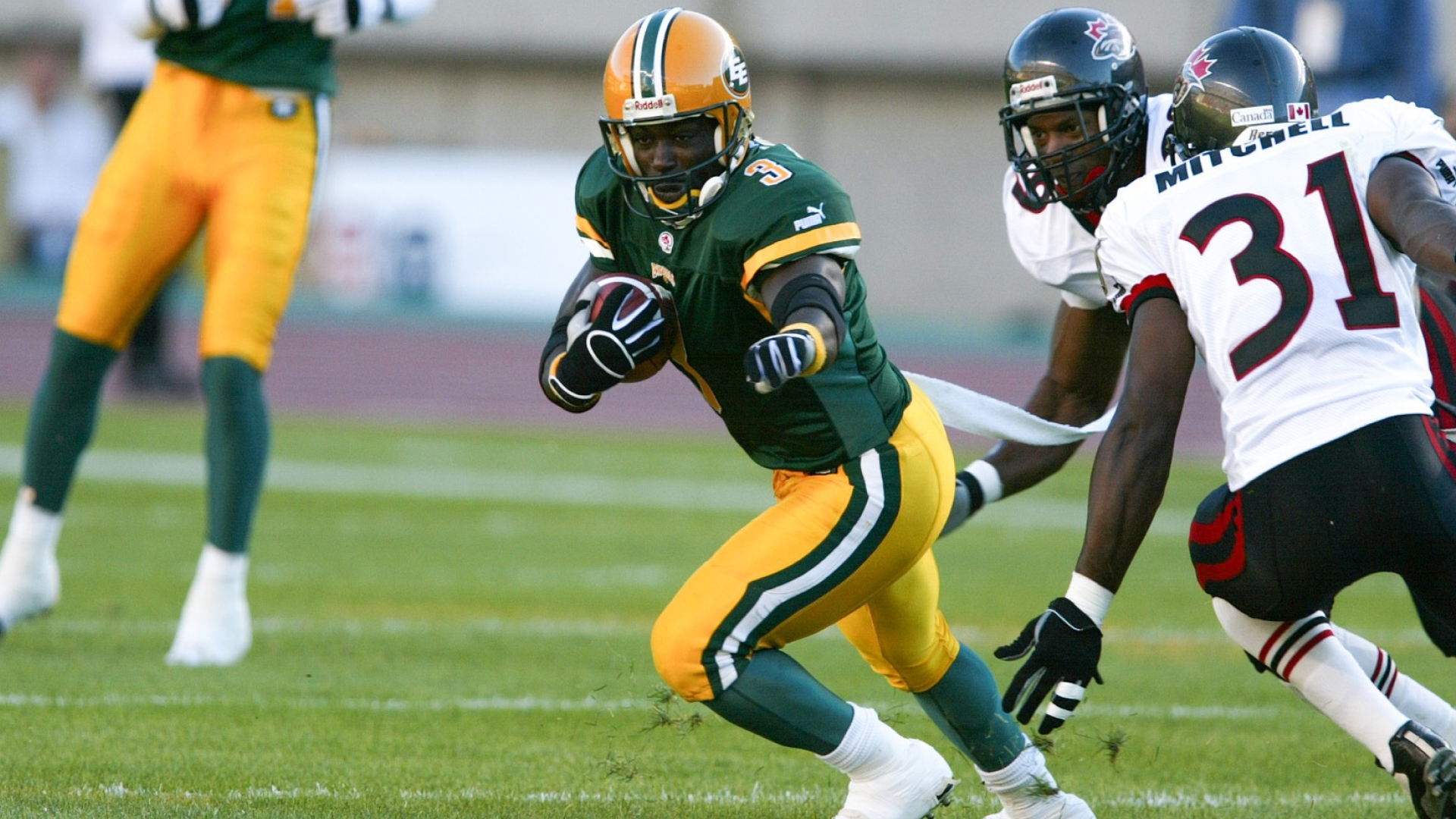 Terry Vaughn CFL career highlights:
2003 Grey Cup champion with the EE
First player in CFL history to eclipse 1,000 career receptions
CFL record for 1,000-yard receiving seasons with 11
Voted No. 45 on the CFL's Top 50 Players of All-time (2006)
2011 Canadian Football Hall of Fame inductee
---
Franchise records:
Most consecutive 1,000-yard receiving seasons (6 from 1999 to 2004)
Tied for most career 1,000-yard receiving seasons (6)
Most receptions in a season (106 in 2003)
Most receiving yards in a game (275 on August 13, 1999 at Winnipeg)
Notes from the EE record book:
2nd in career receptions (545)
T-4th in single season receptions (106 in 2003)
T-8th in single game receptions (12 on October 28, 2000 vs. Saskatchewan)
10th in single season receiving yards (1,558 in 2003)
Other notes from the EE:
106 career regular season games with the EE (211 CFL)

545 receptions with EE for 7,681 yards
38 receiving touchdowns with EE
CFL honours with EE:
Five-time CFL West All-Star (1999-03)
Two-time CFL All-Star (2001, 2002)