Jones named Elks general manager, head coach
2015 Grey Cup champion returns to Green and Gold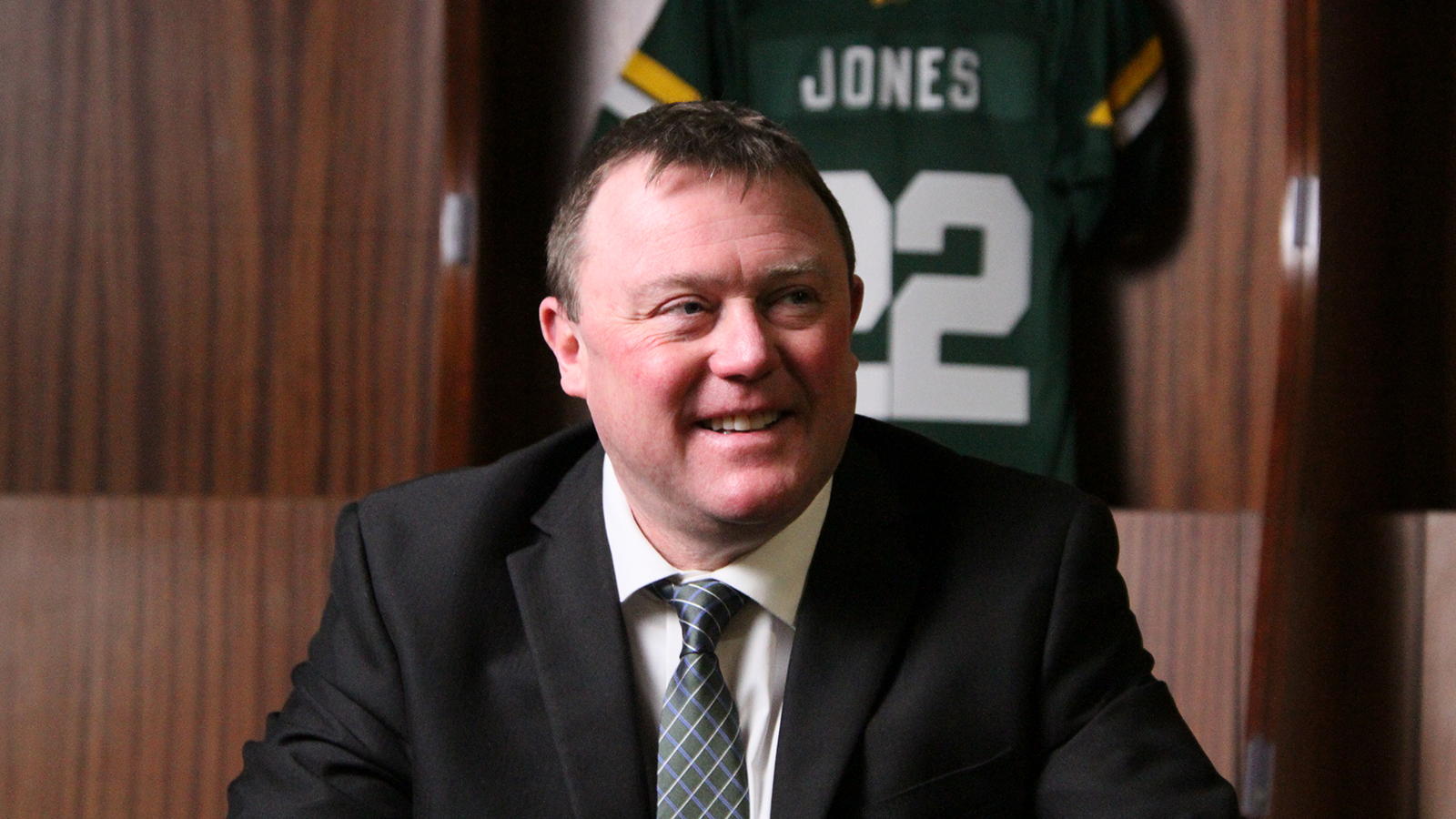 EDMONTON – Chris Jones is back in Edmonton.
The four-time Grey Cup champion is the new general manager and head coach of the Edmonton Elks, the club announced Tuesday.
Jones begins his second stint in Edmonton after previously serving as head coach during the 2014 and 2015 seasons, including the Double E's run to a Grey Cup title in 2015.
---
MEDIA AVAILABILITY
WHO

Chris Jones | Elks General Manager and Head Coach
Ian Murray | Chair, Edmonton Elks Board of Directors

WHEN

1:30 p.m. MT
Tuesday, December 21

WHERE

Elks locker room, The Brick Field at Commonwealth Stadium
NOTE: Media are asked to park at the Commonwealth Community Recreation Centre and meet at the Elks Team Store inside the rec centre. They will then be escorted to the Elks locker room. Media are required to be fully vaccinated and masks must be worn at all times.
---
Following the Green and Gold's most recent CFL championship, Jones departed for the Saskatchewan Roughriders, earning a promotion to the roles of vice president of football operations, general manager, and head coach. While in Saskatchewan (2016-18), Jones guided the Riders to improved records each season, culminating with a 12-6 campaign in 2018 that landed him the CFL Coach of the Year award.
The South Pittsburg, Tenn. native returns to Edmonton after most recently serving as defensive consultant with the Toronto Argonauts this season.
A veteran of 18 CFL seasons, Jones has a 53-37 regular season head coaching record, with double-digit win totals in four of his five seasons. His best season came during 2015, guiding Edmonton to a 14-4 regular season mark before playoff wins over the Calgary Stampeders (Western Final | 45-31) and Ottawa Redblacks (103rd Grey Cup | 26-20).
Jones becomes the first head coach in Elks franchise history to return for a second tenure. His .722 winning percentage with the Elks makes him one of only four head coaches in franchise history with regular season winning percentages above .700, along with Hugh Campbell (.755 | 1977-82), Pop Ivy (.781 | 1954-57), and Darrell Royal (.750 | 1953).
---
CHRIS JONES' RESUME
2021: Toronto Argonauts (CFL) | Defensive consultant
2021: South Pittsburg High School | Head coach
2019-20: Cleveland Browns (NFL) | Senior defensive assistant
2016-18: Saskatchewan Roughriders (CFL) | Vice president of football operations, general manager, head coach, defensive coordinator
2014-15: Edmonton Elks (CFL) | Head coach, defensive coordinator
2012-13: Toronto Argonauts (CFL) | Def. coord. / asst. head coach / asst. general manager
2008-11: Calgary Stampeders (CFL) | Def. coord. / asst. head coach / asst. director of player personnel
2002-07: Montreal Alouettes (CFL) | Def. coord. / defensive line coach
NOTES: Grey Cup championships in 2002, 2008, 2012, 2015.
---
CHRIS JONES' CFL HEAD COACHING RECORD
53-37 (.589) reg. season | 4-3 (.571) playoffs | 57-40 (.588) total
2018 | Saskatchewan Roughriders

12-6 regular season (2nd West)

Western Semifinal: 23-18 L vs. Winnipeg

2017 | Saskatchewan Roughriders

10-8 regular season (4th West)

Eastern Semifinal: 31-20 W @ Ottawa
Eastern Final: 25-21 L @ Toronto

2016 | Saskatchewan Roughriders

5-13 regular season (5th West)

2015 | Edmonton Elks

14-4 regular season (1st West)

Western Final: 45-31 W vs. Calgary
103rd Grey Cup: 26-20 W vs. Ottawa

2014 | Edmonton Elks

12-6 regular season (2nd West)

Western Semifinal: 18-10 W vs. Saskatchewan
Western Final: 43-18 L @ Calgary