Emmanuel Arceneaux awarded the Tom Pate Memorial Award
Arceneaux is the sixth Edmonton player to receive the Tom Pate Memorial Award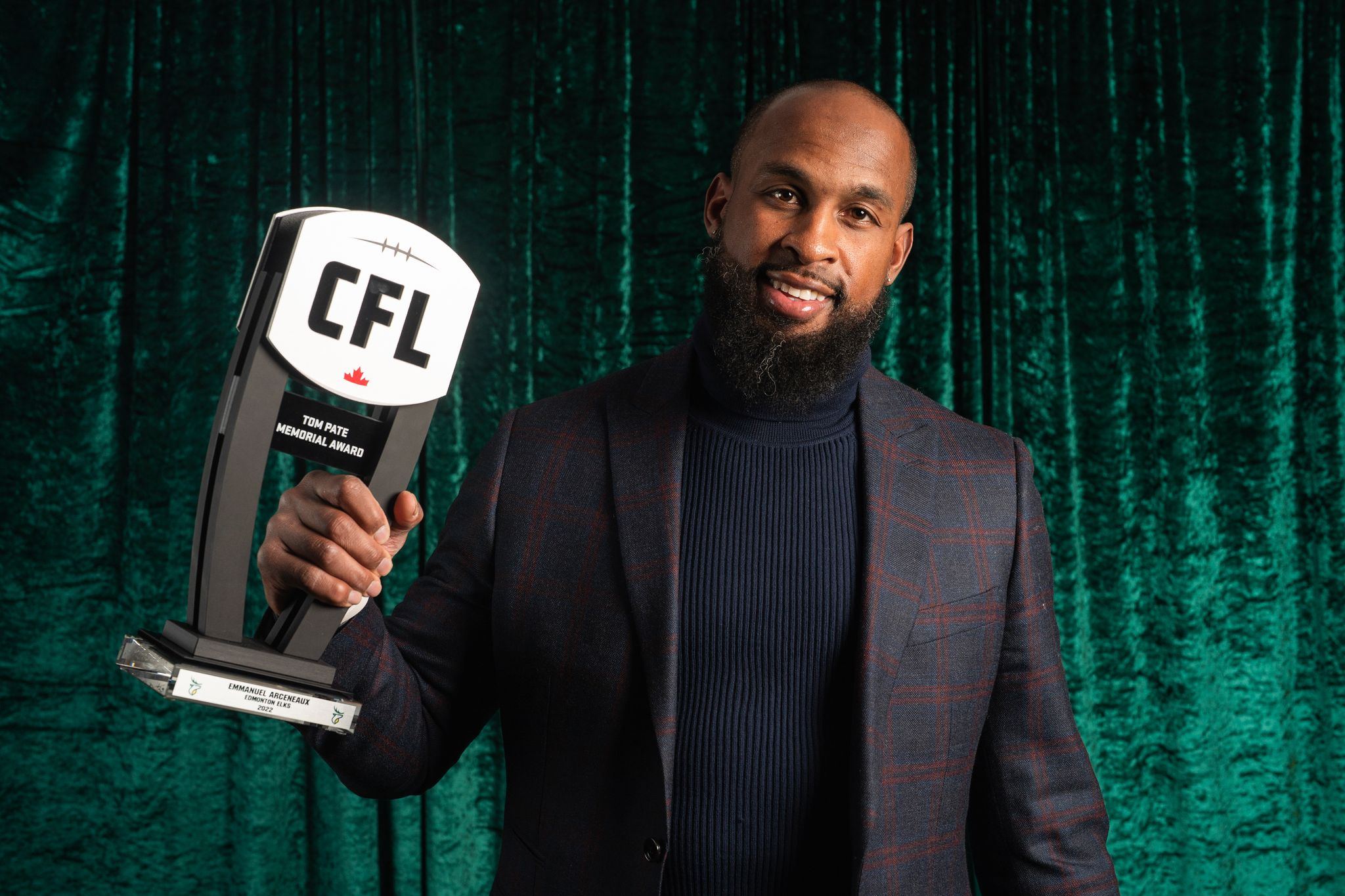 EDMONTON - Edmonton Elks receiver Emmanuel Arceneaux was honoured as this season's recipient of the Tom Pate Memorial Award during the 2022 CFL Awards at the Conexus Arts Centre in Regina, Sask on Thursday.
Awarded by the CFL Players' Association, the honour recognizes outstanding sportsmanship and significant contribution to team and community.
Emmanuel Arceneaux Tom Pate Award Speech.
In his 10th CFL season and first as a member of the Double E, the 35-year-old Arceneaux was a leader on and off the field.
Suiting up for 12 contests, all starts, with the Green and Gold, Arceneaux recorded 39 receptions for 513 yards and one touchdown. He ranked second on the team in YAC (Yards After Catch) with 228 yards and had a season-long reception of 66 yards. Arceneaux climbed to 24th on the CFL all-time career receptions list, with 627.
The Alcorn State product served as a guest coach for minor football teams including the Edmonton Mustangs, coached at Chuba Hubbard's free youth football camp, and ran a youth speed and agility camp at Turf Training Centre. He also led a camp as part of the youth Elks Experience with the Indigenous Sport Council of Alberta.
In September, Arceneaux received the David Boone Award. Named for the late Green and Gold defensive lineman, a CFL All-Star who spent countless hours helping the less fortunate, the award is presented annually to the Elks' player that best displays the characteristics on the field and in the community that the late David Boone stood for.
The Tom Pate Memorial Award is named in the memory of former Hamilton Tiger-Cats player Tom Pate, who was critically injured in a game in 1975.
---
Previous Tom Pate Memorial Award Recipients
2018 - Ryan King
2017 - Adarius Bowman
2001 - Rick Walters
1988 - Hector Pothier
1982 - David Boone