Elks to honour Ricky Ray with helmet decal
Legendary Green and Gold QB set for Hall of Fame induction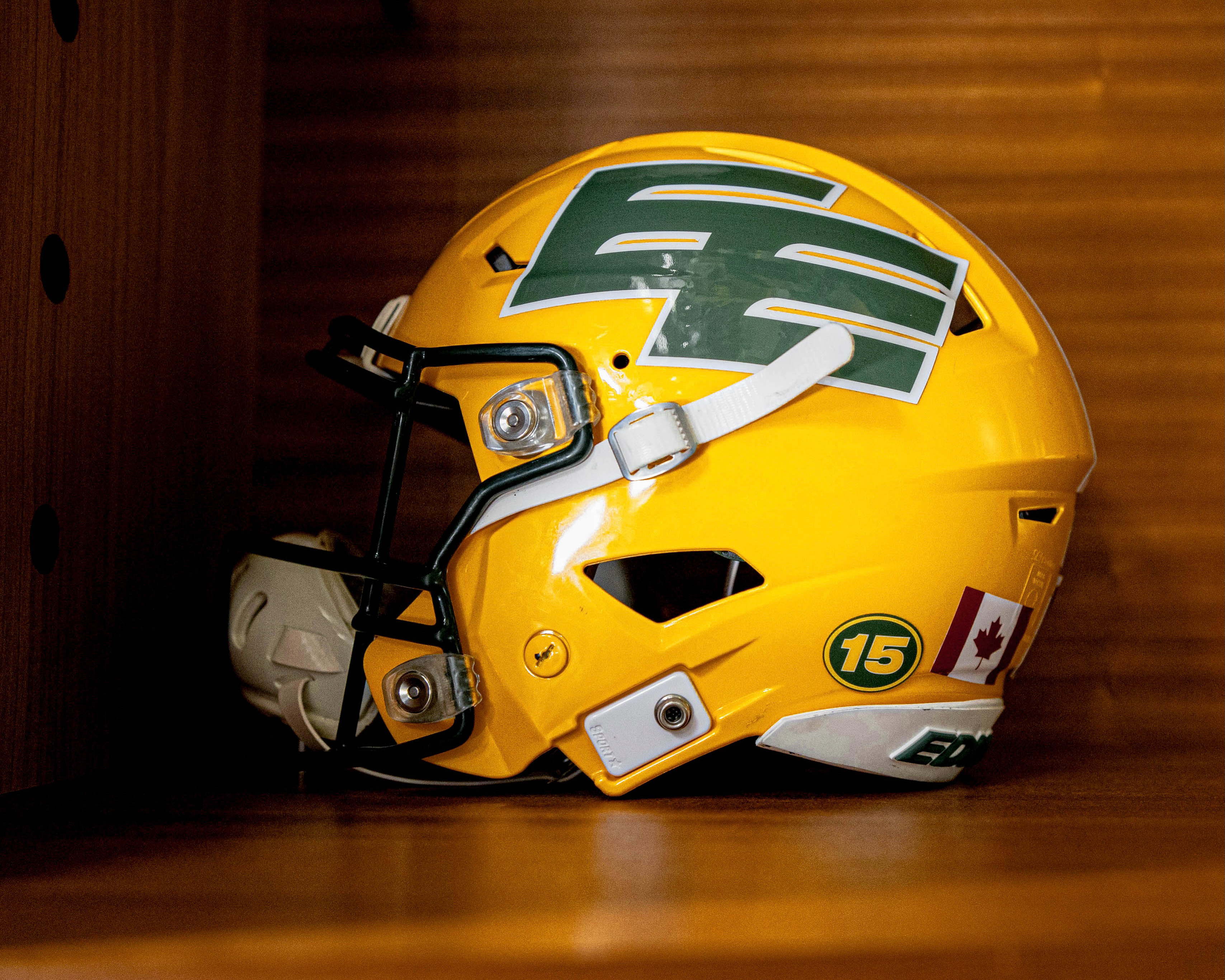 EDMONTON — The Edmonton Elks will pay tribute to Ricky Ray as the legendary Green and Gold quarterback enters the Canadian Football Hall of Fame this weekend.
In honour of the franchise's all-time passing leader, the Elks are wearing a '15' helmet decal when they take on the Saskatchewan Roughriders at Mosaic Stadium in Regina on Friday. Ray is being inducted into the Canadian Football Hall of Fame in Hamilton, Ont. Friday night as part of the Class of 2022 induction ceremony.
Ray played nine seasons in Green and Gold between 2002 and 2011, leading Edmonton to Grey Cup championships in 2003 and in 2005 when he was named game MVP. He finished his career ranked first in team history for completions (3,225), yards(40,531), and touchdowns (210).
"When I first got to Edmonton, seeing (old highlights) about the league and the organization inspired me to want to be a part of that, and for me to go out there and experience some of those things I saw in those highlight films, it's just very fulfilling and rewarding and satisfying," says Ray.
"Hopefully I was able to leave a little bit of an impact in the CFL and maybe inspire another young player who is coming up to want to be able to experience that."
Ray was Edmonton's Most Outstanding Player Award nominee five times and set numerous league and franchise records while wearing Green and Gold. He had three seasons with at least 5,000 yards passing and led the league in passing yards three times while playing in Edmonton.
Over 18 CFL seasons, between Edmonton and the Toronto Argonauts, Ray won four Grey Cups and earned four division All-Star selections. He retired following the 2018 seasons, with 4,976 completions — third most all-time in the CFL — and is one of only four players in league history to top 60,000 yards passing.
After a college career at Sacramento State, Ray came to Edmonton in 2002 and took over as the team's starting quarterback early in his rookie season, leading the Double E to a Grey Cup appearance. He spent a season in the NFL with the New York Jets in 2004 before returning to Edmonton. Ray was named to Edmonton's Wall of Honour in 2019.
Kickoff for the Elks' game Friday at Saskatchewan is 7:30 p.m. MDT. Fans can watch live on TSN, stream on TSN Direct, and listen on 630 CHED.
Following Friday evening's Hall of Fame induction ceremony, the Class of 2022 will be honoured during halftime of the annual Hall of Game between the host Hamilton Tiger-Cats and Winnipeg Blue Bombers at Tim Hortons Field. The Class of 2022 also includes Chip Cox, Paul McCallum, Tim Tindale, and Dick Thornton in the player category; Dave Ritchie, Keith Evans, and Roy Shivers in the builder category; and Glen Suitor and Ed Willes in the media wing.
Visit GoElks.com for complete Ricky Ray Hall of Fame coverage, including special articles, features, photos, videos and more.