Elks release single game tickets to full 2023 home schedule
Season game themes also unveiled as the countdown to CFL kickoff begins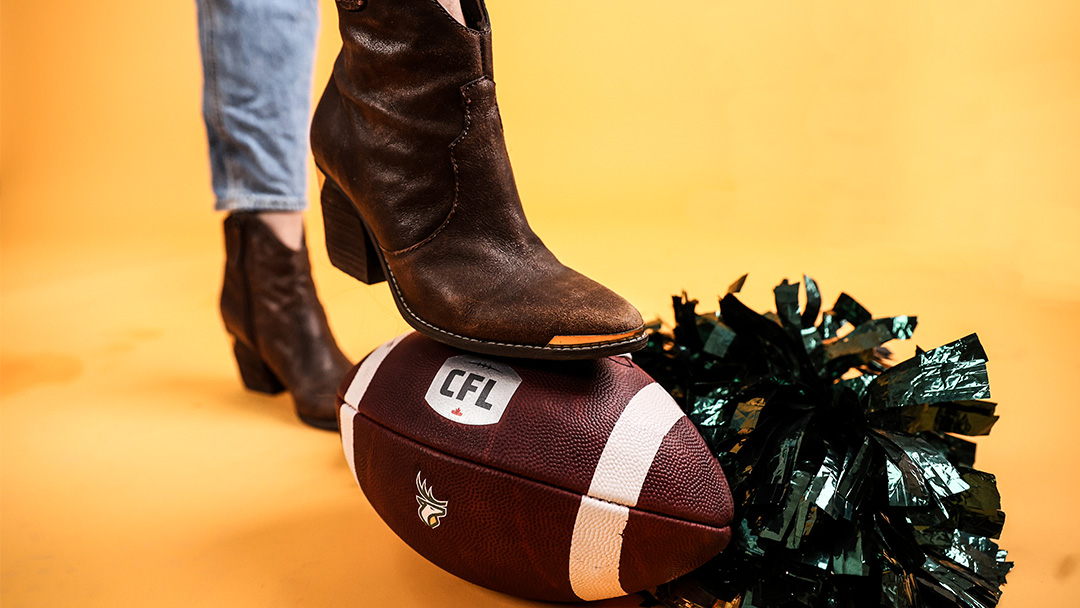 EDMONTON — The countdown to the CFL season is officially in the home stretch, as single game tickets to the full 2023 Edmonton Elks schedule went on sale Friday.
In addition to fans being able to purchase single game tickets to all 10 Elks home games, the Club also unveiled their 2023 game themes.
Fans can get their first look at the Green and Gold at Commonwealth Stadium on Saturday, May 27 (2 p.m.) against the Winnipeg Blue Bombers in preseason action, while the Club's 2023 home opener is set for Sunday, June 11 (5 p.m.) against the Saskatchewan Roughriders.
The home opener is Canadian Armed Forces Appreciation night and will be highlighted by a pre-game flyover by CF-18s from 4 Wing Cold Lake.
---
2023 ELKS HOME GAME THEMES
New to Football (preseason)
It's time to enjoy some football fun, whether you've been here before or not! New fans will be introduced to the game with in-game football 101 content, highlighting the rules of football, and basics needed to understand our great Canadian game. Newcomers to the game will be showcased at halftime with players from our Elks Junior High School Flag Football program.
---
Canadian Armed Forces Appreciation (home opener)
We've been waiting for this game all off-season! Before the game join us in the K97 Tailgate Party on the west side of the stadium (all season), then feel the energy of a pre-game flyover by CF-18s from 4 Wing Cold Lake. For families, our new Kids Zone inside Clarke Stadium (all season) will give you plenty of space to burn off some pre-game energy and enjoy the summer heat. Don't forget to check out music from Whale & The Wolf pre-game at our Fan Fest!
---
90s Night
Think we're intimidated by the defending Grey Cup champs? As if! It's time to throw it back to a decade of radically Canadian football, as we honour the 30th anniversary of our 1993 Grey Cup championship team. Enjoy the best 90s beats, and 90s themed giveaways in-game. It's ultimate frisbee time at halftime, as the Edmonton Ultimate Players Association treat us to the best disc tossing on the prairies.
---
Salute to Service
It's our chance to say thank you, as we acknowledge the hard work and sacrifice of first responders, our medical professionals, and everyone who works to serve Edmonton and all of Northern Alberta. Be impressed by the athleticism of our local firefighters with a FireFit Championships showcase at halftime.
---
Country Night
Dust off your Wranglers, put on those cowboy boots and watch us two-step our way to victory against those West Coast cats the B.C. Lions. Enjoy country music pre-game in the K97 Tailgate, country tunes all night long, and more western hospitality in Fan Fest. One lucky fan will win a trip to the honky tonk capital of the world Nashville courtesy Edmonton International Airport!
---
Indigenous Celebration
Our Indigenous Celebration game is back again this season, as we welcome crowd favourites Dancing Cree for a halftime performance. The Canadian national anthem will be performed in both English and Cree.
---
Wall of Honour Night
Join us as we honour the induction of another EE great to the Wall of Honour (stay tuned for who it'll be!), and celebrate the 20th anniversary of the 2003 Grey Cup championship squad. Enjoy performances from generations of cheer team members, as our cheer alumni return to Commonwealth Stadium. Don't forget to bring your non-perishable food items to the game or make a monetary donation to help support Edmonton's Food Bank.
---
Labour Day Rematch (Family Day)
It's the big one! Join us for the gridiron edition of the Battle of Alberta, as we stick it to the Stamps. It's Family Day, so we're letting the kids run the show! Our junior in-game hosts return, we'll also let the next generation handle the national anthem and public address announcing. Bring the whole family and enjoy a pre-game concert in Fan Fest, and of course there's still the Kids Zone at Clarke Stadium.
---
Campus Clash
School may be back in session, but it's time to enjoy a night off! It's time to round up the crew and enjoy the action on the field, and in between the action. Post-secondary students will have their chance to win big, with a tuition contest at halftime, and drink specials. Buy a used textbook or two, and put some cash away for what promises to be a great time!
---
Christmas in October (Fan Appreciation Night)
Celebrate the holidays early when the Elks team present Christmas in October. The Elks will be in the giving spirit with fan appreciation giveaways throughout the game. Halftime promises to be a fun one, as cheer teamers young and old join the Elks Cheer Team on the field for Experience Cheer.
---
THE COUNTDOWN TO KICKOFF IS ON
The 2023 CFL season is rapidly approaching. Be there Sunday, June 11 at Commonwealth Stadium when the Edmonton Elks open the season against the Saskatchewan Roughriders. It's the start of a summer full of family, fun and football. Being part of the action has never been more affordable, with tickets starting at just $15. Click here to get your tickets to the Home Opener and be part of the tradition.
Elks Football...Our Team. Our City.