Elks partner with Global News, 630 CHED on All-Time All-Stars
Fan voting to determine club's best now open

EDMONTON – It's time for Edmonton football fans to pick the best in Green and Gold history.
The Elks have partnered with Global News and 630 CHED to give fans the chance to select the greatest players in club history with the Elks All-Time All-Stars campaign.
From July 19 to 23, fans can vote for their favourite players in eight positional categories, with every vote earning fans a chance to win a pair of Elks 2021 season tickets.
---
Voting for the Elks All-Time All-Stars is now open. Click here to cast your ballot.
---
NEED TO KNOW:
Elks partnering with Global News and 630 CHED to select Elks All-Time All-Stars
Fans can vote for their favourite players in eight positional categories
Voting is now open and runs through Friday, July 23 (midnight MT)
Results to be unveiled on Global News Hour at 6 and 630 CHED beginning Monday, July 26
All votes give fans a chance to win a pair of Elks 2021 season tickets
---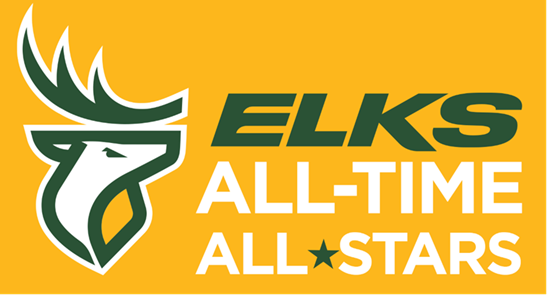 COMPLETE LIST OF PLAYERS:
Special Teams (10) - Larry Highbaugh, Gizmo Williams, Sean Fleming, Dave Cutler, ​ Mike Miller, Jed Roberts, Sean Whyte, Hank Illesic, Ryan King, Mathieu Bertrand
Defensive line (11) - Almondo Sewell, Dave Fennell, Ron Estay, James Parker, Bennie Goods, Leroy Blugh, Malvin Hunter, Stewart Hill, John LaGrone, David Boone, Odell Willis
Linebackers (8) - ​ Dan Kepley, Willie Pless, Danny Bass, JC Sherritt, Larry Wruck, Singor Mobley, A.J Gass, , TJ Hill, Dexter McCoil
Defensive backs (11) ​ - Larry Highbaugh, Ed Jones, John Wydareny, Joe Holliman, Don Wilson, Malcolm Frank, Oscar Kruger, Shannon Garrett, Jackie Parker, Aaron Grymes
Offensive line (9) - Bruce Beaton, Rod Connop, Matt O'Donnell, Chris Morris, Hector Pothier, Bill Stevenson, Blake Dermott, Mike Wilson, Roger Nelson
Running back (11) - Johnny Bright, Normie Kwong, Jim Germany, Jackie Parker, Jim Thomas, Roy Bell, Mike Pringle, John Avery, ​ Rollie Miles, Neil Lumsden, Calvin McCarty
Quarterback (10) - Warren Moon , Tom Wilkinson, Michael Reilly, Ricky Ray, Tracy Ham, Damon Allen, Matt Dunigan, Jackie Parker, Jason Maas, Don Getty ​
Receiver (11) - Brian Kelly, Fred Stamps, Terry Vaughn, Adarius Bowman, Ed Hervey, Jason Tucker, George McGowan, Waddell Smith, Tommy Joe Coffey, Tom Scott, Derel Walker