Elks and QB Ford target big finish for Cleats of Strength campaign
Fundraiser in support of Stollery has already surpassed $10,000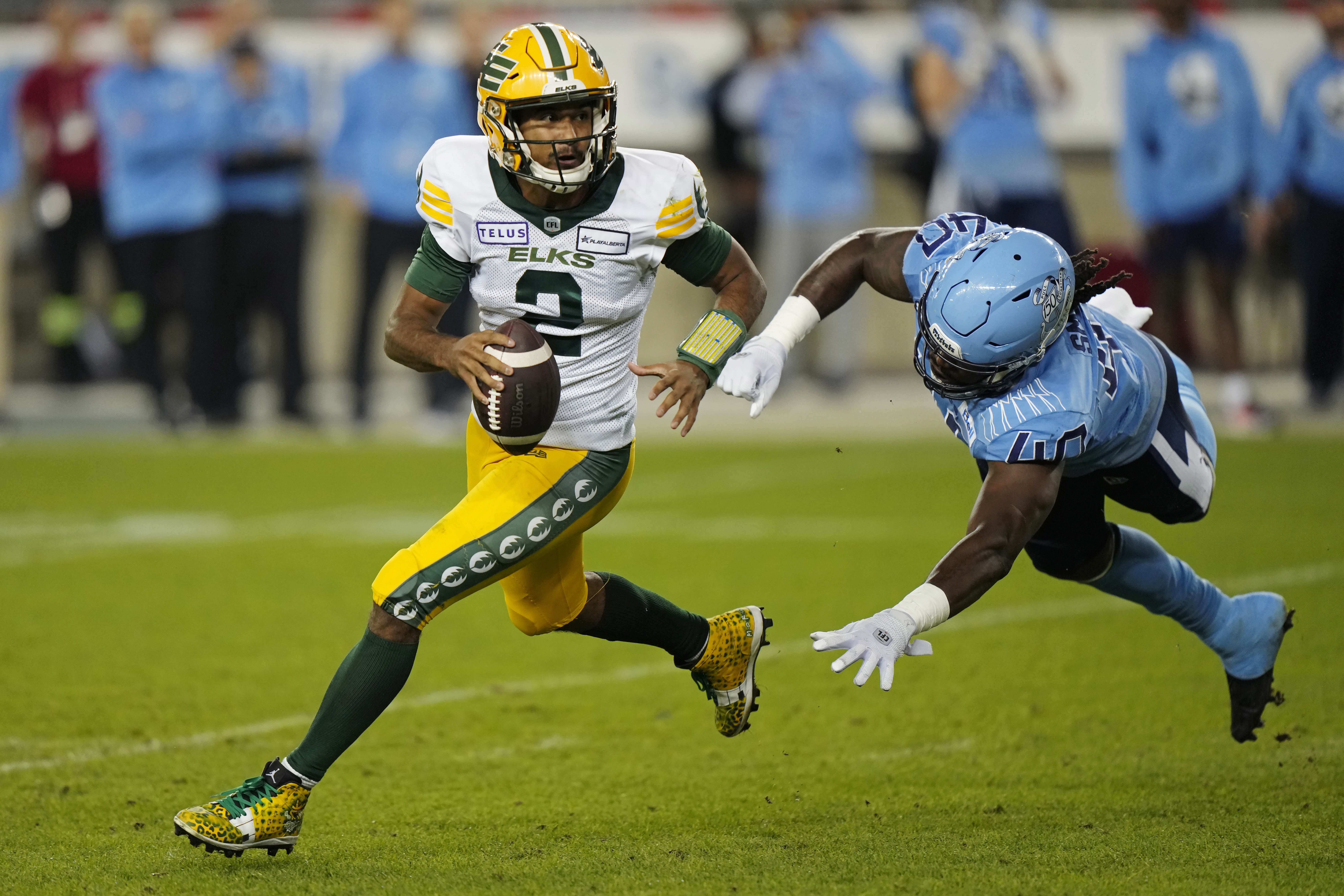 EDMONTON – There are only a few ticks left on the clock, and the Edmonton Elks and quarterback Tre Ford are looking to cap off the team's season-long fundraiser in support of children's health by putting some big numbers on the board this Saturday when they host the Montreal Alouettes at 2 p.m. for their final home game of 2023 at Commonwealth Stadium. ​ 
Cleats of Strength presented by MHCare Medical has already raised more than $10,000 for the Stollery Children's Hospital Foundation, and fans can help that total climb even higher by bidding on Ford's autographed custom-designed cleats that the Canadian quarterback wore last week against the Toronto Argonauts. ​ 
The auction is open on the Elks website from now until 3 p.m. MST Saturday, when it will close around halftime of the game. A cheque presentation will be made to the Stollery Children's Hospital Foundation during the third quarter. ​ ​ 
During select games throughout the 2023 CFL regular season, Elks players have worn special cleats designed by the player in collaboration with Stollery kids from across Western Canada and Métis footwear customizer Syngyn Sperling of Momentum Customs. Fans from across the continent have bid on these one-of-a-kind cleats. ​ 
"As a Club, we're very proud of the work that's gone into making Cleats of Strength a success this season," says Evan Daum, Elks Director of Marketing and Communications.
"Like any good initiative, it's taken a team effort to raise funds for the Stollery Children's Hospital Foundation. The support of both the Stollery and MHCare Medical, plus the outstanding work of our designer Syngyn, has led to this being a win for everyone involved. We're so thankful for the impact we've made working with Stollery families, and the interest our fans have shown in these truly one-of-a-kind pieces of art."
In just his second season, Ford has become the CFL's breakout star of 2023. The Niagara Falls native ranks among the league leaders in several categories, and was named Player of the Month on the CFL Honour Roll in August. ​ 
Other participating players have included receivers Manny Arceneaux and Geno Lewis, running back Kevin Brown, defensive linemen Jake Ceresna and J-Min Pelley, and defensive back Nyles Morgan. ​ ​ 
Proceeds from Cleats of Strength will support the best programs, equipment, research and training at the Stollery Children's Hospital, giving all kids the best chance at a long and healthy life. ​ 
"We're incredibly grateful to the Edmonton Elks for supporting our world-class Hospital and for treating our Stollery kids like gold all season long," says Stacey Amyotte, Director of major gifts and planned giving at the Stollery Children's Hospital Foundation.
"And to Elks fans across the country, thank you for bringing the green and placing your bids game after game, you're making a life-changing difference for kids from backyards across Alberta and beyond." 
To place a bid, view photos of all cleat designs, and learn more about Cleats of Strength presented by MHCare Medical, visit GoElks.com/Cleats. ​