Air Products Foundation Stands With Ukraine by making $20,000 donation
Company supporting the Canada-Ukraine Foundation and the Edmonton Elks' June 3rd pre-season game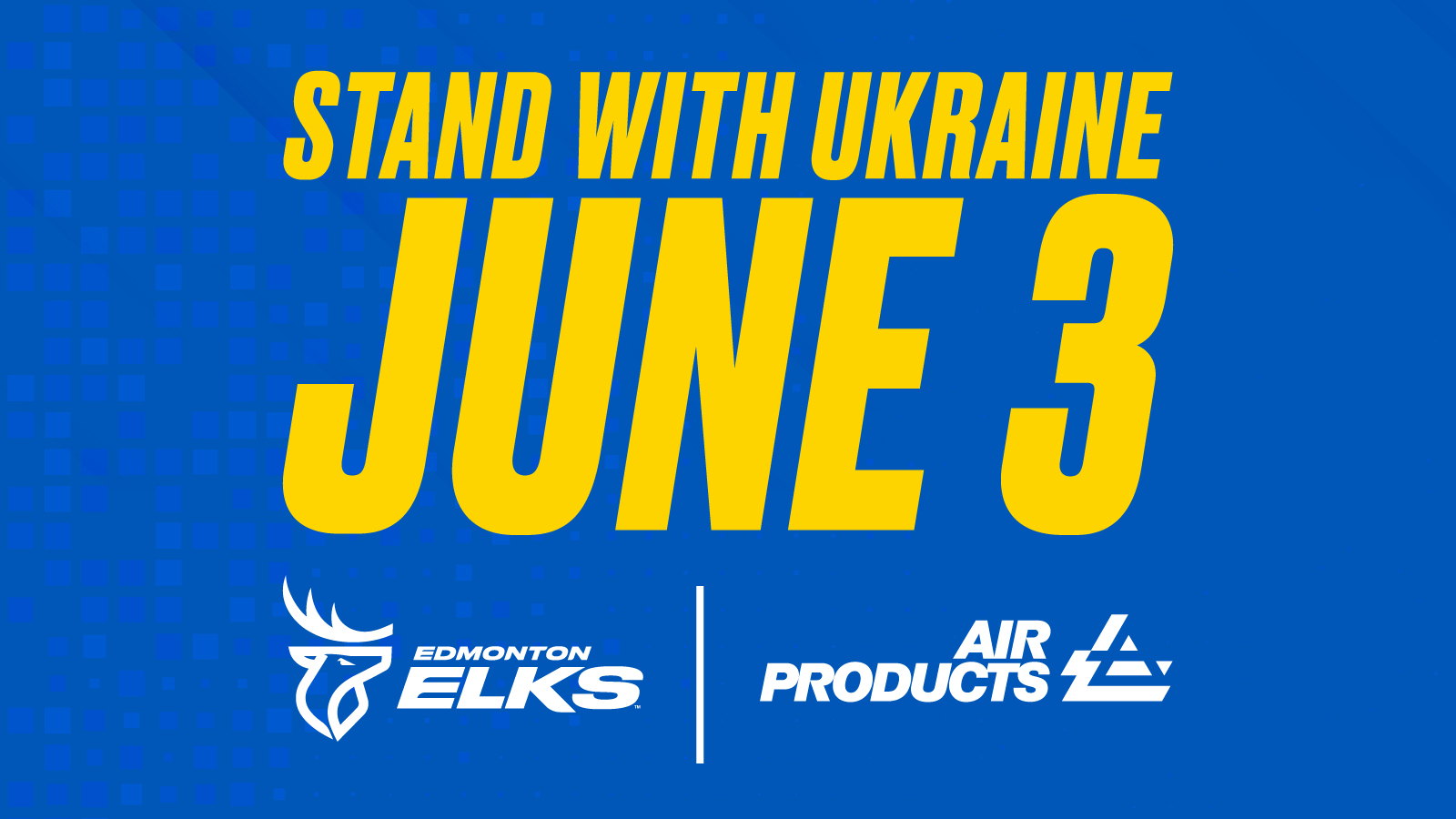 EDMONTON — Through the Air Products Foundation, Air Products Canada is stepping up to #StandWithUkraine, as the company, in conjunction with the Edmonton Elks, announced a donation of $20,000 to the Canada-Ukraine Foundation (CUF) on Friday.
To coincide with Air Products' generous donation, the Elks are separately donating $20,000 worth of tickets to Edmonton families, so they can enjoy the Double E's pre-season game on June 3rd against the Calgary Stampeders.
Friday's news marks the largest single donation tied to the event, which is raising funds through the sale of $15 single game tickets for the Canada-Ukraine Foundation.
#StandWithUkraine was announced earlier this month, with the Elks aiming to help the Ukrainian people through a moment of shared solidarity, as the war in Ukraine continues.
As part of Air Products Foundation's generous donation, the company is hopeful others in the local corporate community will also support the game and the CUF to ensure this event helps those in need.
"From the outset we have been, and continue to be, deeply concerned by the tragic suffering being experienced by the people of Ukraine. As part of our company's higher purpose, we are pleased to provide this assistance to Ukrainian families that are resettling in the Edmonton area. We are hopeful that others join our outreach efforts for the benefit of our newest members of the Edmonton community," said Rachel Smith, Air Products Canada's Vice President and General Manager. ​ 
Thanks to Air Products' generosity and the Elks' donation of more than 1,300 tickets, the game's total ticket count is approaching 25,000, as Edmontonians continue to live up to their reputation as compassionate, global citizens.
"When we set out on our mission to Stand With Ukraine on June 3rd, we knew everyday Edmontonians and our terrific corporate community would stand beside us for the Ukrainian people. We've been inspired by the support we've already received, and know that this final week will see even more generosity, as we come together for a shared moment of solidarity on June 3rd," Elks President and CEO Victor Cui said.
For more details on #StandWithUkraine, please click here.
---
ABOUT AIR PRODUCTS CANADA
With over 40 years of experience operating in Canada with proven exceptional reliability performance, Air Products Canada, a subsidiary of Air Products, is proud to serve customers across Canada with safe and reliable industrial gases. ​ Specific to hydrogen: 
• In Ontario, Air Products Canada owns and operates a world-scale hydrogen production facility, 10km pipeline delivery network, liquefaction facility and liquid hydrogen distribution network serving customers across eastern Canada and the US. 
• In Alberta, Air Products Canada owns and operates three world scale hydrogen production facilities and a 55km pipeline delivery network supplying refining and petrochemical customers across the Alberta Industrial Heartland region. The addition of our new net-zero hydrogen energy complex will make Alberta home to the world's most competitive and lowest carbon intensity hydrogen network.